weddings
beautiful wedding photography
beautiful wedding photography
My style of wedding photography is best described as natural, candid and documentary.
I follow the events of your day, photographing unobtrusively, capturing real moments as they happen.
I tend not to pose your shots unless you want me to do so.
My goal is to tell the story of your wedding, capturing your journey, the fun and emotions, translating them into beautiful fresh and modern pictures.
I will document all the key moments, from the bridal preparations through your first dance, producing images that reflect your love, personality & style.
I am sure you will cherish your wedding photos forever.
memories that last a lifetime..
My studio uses the latest technology, using only high quality digital equipment, ensuring you'll receive superior quality high definition images.
All of your wedding images will receive a series of digital enhancements and retouching to ensure every detail is captured and every image is print perfect.
Blemishes and slight imperfections are removed so as to enhance the end result
Your images are made available via a secure online gallery, where you can view, download and share your images with your friends and family and digital media.
You will recieve the high resolution digital negatives on a USB drive.
You own the negatives, use your photos anytime, everywhere.
wedding prices 
Planning your wedding photography should be relaxed and a stress free part of organising your wedding.
All of my wedding packages include the high resolution digital negatives ! No obligation to buy albums or prints.
Each one of your wedding images has been carefully selected, edited and retouched – these can be shared, emailed or printed as you wish.
Lets discuss your wedding day. I can tailor a wedding package to suit your requirements and budget.
Wedding Package : $2800
An engagement portrait session on location before your wedding. Let's get to know each other.
Up to 6 hours wedding day coverage with your photographer,
including:
Bride preparation on location
Groom and family shots at the church
Wedding Ceremony
Formal wedding location shots
Reception
Speeches and dancing
Any special requests
The complete selection of images, individually edited and retouched to capture the journey of your day.
Your own secure online gallery for family and friends to see your wedding images. You can view, share and download your images on any device.
A USB drive containing the full set of high resolution digital negatives suitable for printing large pictures, wedding albums or canvases.
A USB drive containing low resolution images suitable for email & internet.
Personalised  thankyou cards for each of your guests, designed with an image personally selected by you.
All media supplied with an indefinite license and all images may be used as you wish.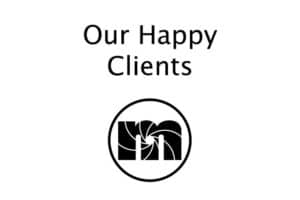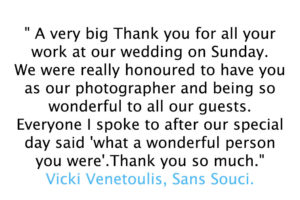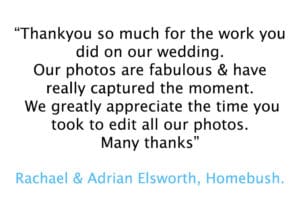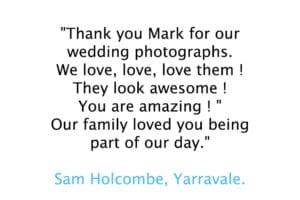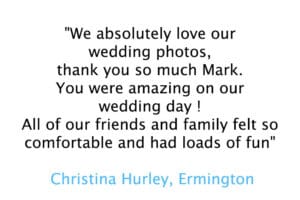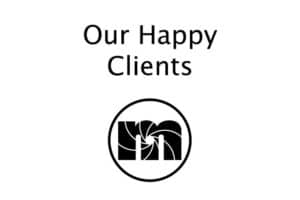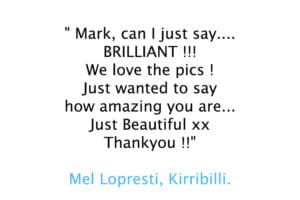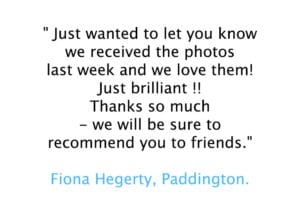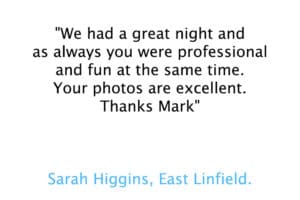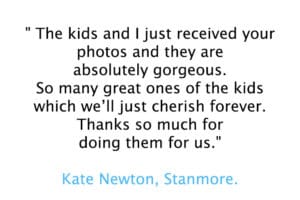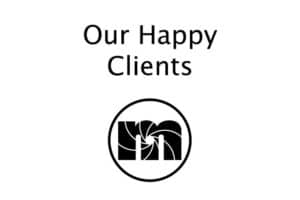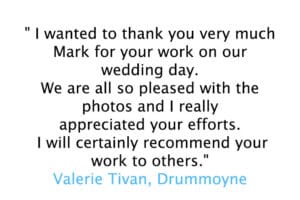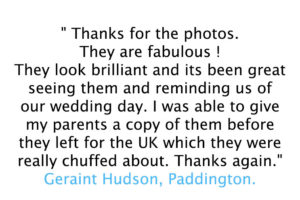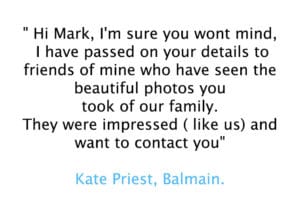 Please contact me for a wedding consultation.
I look forward to learning more about your special day.